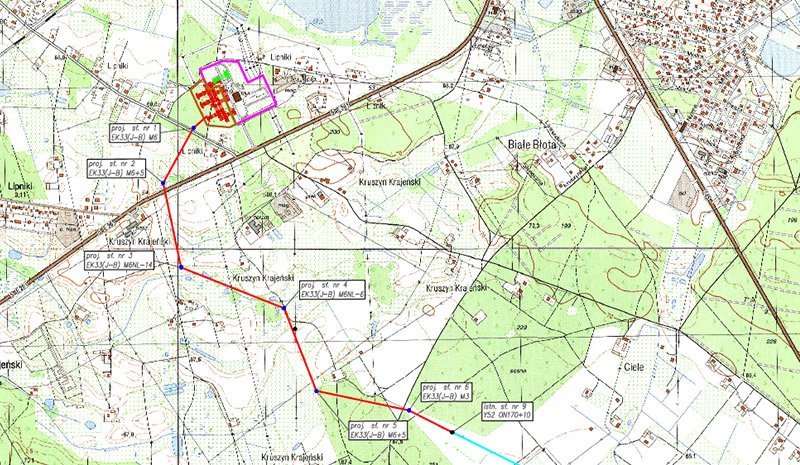 Expansion of the 220/110 kV Bydgoszcz Zachód station
Extension of 220/110 kV Bydgoszcz Zachód substation by a 400 kV switchyard
The development of the Bydgoszcz Zachód 220/110 kV substation is a part of development of the northern region of the National Power System.
The 400 kV switchyard will allow:
connection of three overhead 400 kV lines from Piła Krzewina and Jasiniec substations
voltage transformation from 400 (220) kV to 110 kV
power supply reliability for the Bydgoszcz area 110 kV distribution network.
The switchyard has been designed in two-system layout, and consists of 9 bays with tubular busbar technique, high structures and support structures for the equipment and busbars of the systems No 1 and No 2.
The total scope of work has been divided into two stages:
STAGE I: Construction of the 400 kV substation without connection to the network.
STAGE II: Shutdown and disassembly of the 220 kV switchyard and completion of the construction of 400 kV switchyard. In that stage to the new-built 400 kV substation will be temporarily connected an AT1, 275 MVA autotransformer and three 220 kV lines (Piła Krzewina 1, Piła Krzewina 2 and Jasiniec).
Eventually the switchyard will operate at 400 kV voltage, with AT2 400/110/15 kV autotransformer of 450 MVA capacity.
In the scope of work there is also modernisation of telecommunication systems, and modernisation and development of the secondary circuits:
by equipping the new 400 kV bays with systems of electrical protection, automation, control, general signalling, interference recording, energy metering and the Control and Supervision System (SSiN) with fibre-optic cables.
by upgrade of the auxiliaries DC and AC power supply system and installation of an electric power generator unit.
The contract was concluded in March 2015. The formal/legal procedures are currently in progress.